On Monday, 19th of July 2021, history was made when Luke Prokop, a Nashville Prospect, came out publicly, becoming the first active gay player under an NHL contract. The 19-year-old defenceman broke the news through a social media post, and he had this to say:
"Hi everyone. While the past year and a half has been crazy, it has also given me the chance to find my true self. I am no longer scared to hide who I am….. Today I am proud to tell everyone that I am gay publicly" He said that  It has been quite a journey to get to that point in his life, and he could not be happier with his decision to come out.
"From a young age, I have dreamed of being an NHL player, and I believe that living my authentic life will allow me to bring my whole self to the rink and improve my chances of fulfilling my dreams". Prokop was a happy man to acknowledge the unending support from his loved ones and agents.  He was grateful to his family, friends, and agents who he said despite them knowing who he really is, they loved and supported him every step of the way.
His coming out and being the first active gay player under an NHL contract aimed to show gay people that they are welcome in the hockey community and should not be discriminated against.
Prokop went ahead and remarked, " I hope that in sharing who I am, I can help other people see that gay people are welcome in the hockey community, as we work to make sure that hockey truly is for everyone. Prokop acknowledged that he's new in the community, but he's eager to learn about the strong and resilient people who came before him and paved the way so he could be more comfortable today.
"This is just the beginning of my journey, and I am excited to see where it takes me, both in hockey and in life. Thank you!".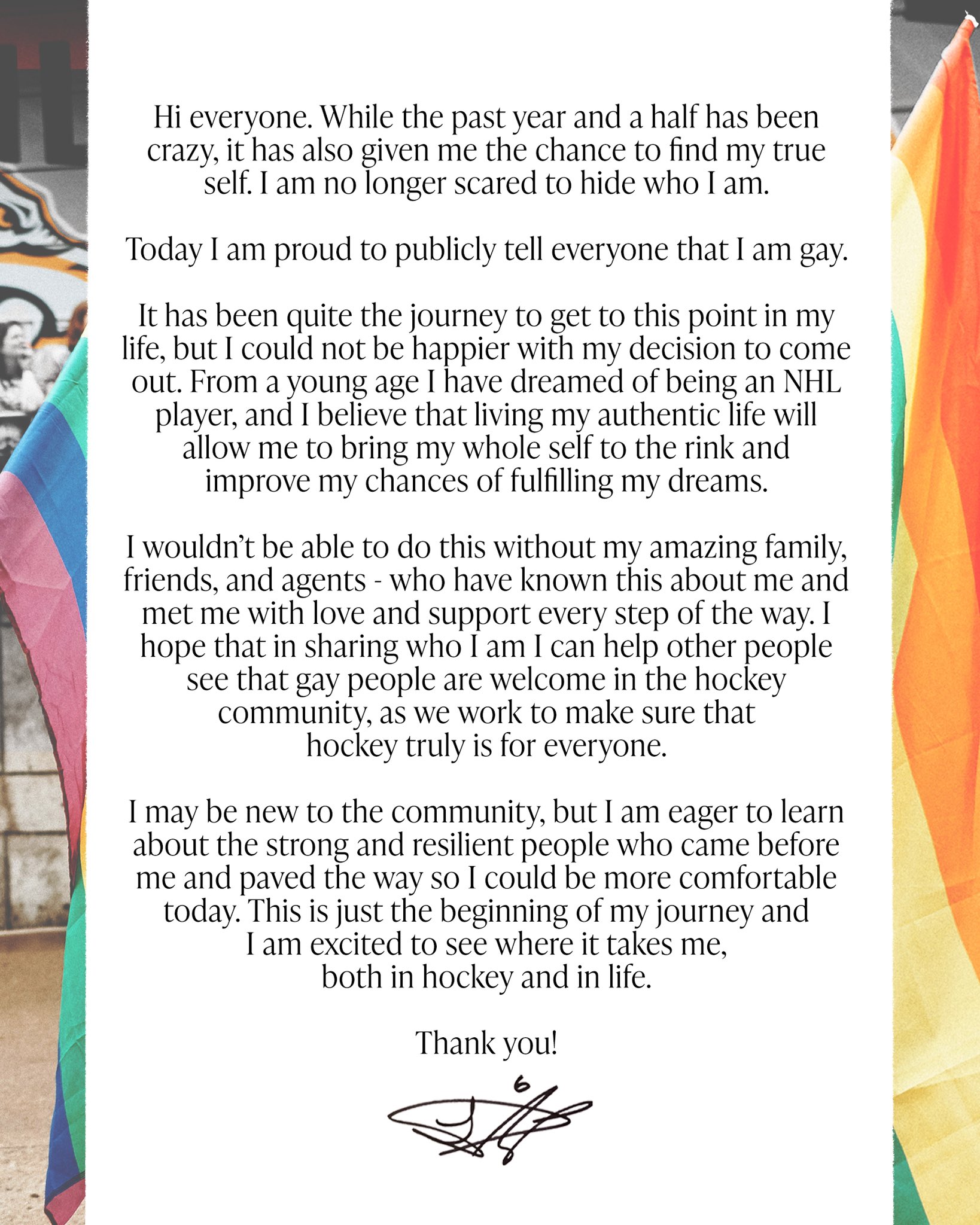 The Overwhelming Support for Luke Prokop After Coming Out as Gay
Unlike in some cases where LGBTQ+ individuals are discriminated against within the team or are scared to come out, Luke Prokop came out as gay to the Predators organization and has since received overwhelming support from teammates and staff. Through his statement, Sean Henry, the president and the CEO of Nashville Predators, said that the organization is proud of Prokop's decision to come out and that they will support him in days, weeks, months, and years to come.
Among those in support of Prokop's decision is Nashville Predators President of Hockey Operation, David Poile. He stated that Prokop has a bright future and is valued in Nashville Predators.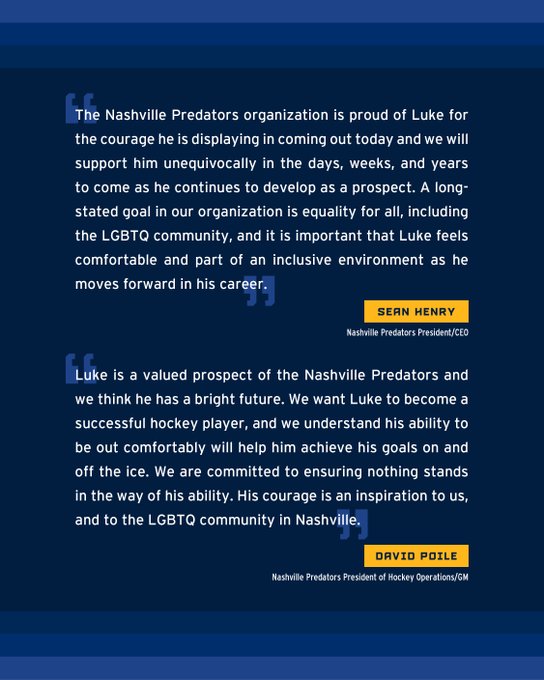 Don Fehr, the NHL Players Association Director, and NHL Commissioner Gary Bettman were also among those who supported Prokop after coming out.
Prokop's announcement came shortly after Carl Nassib came out as gay, becoming the first active N.F.L. gay player. Recently, there has been an increase in acceptance and inclusiveness in international sports regarding people's sexuality. Not less than 142 LGBTQ+ Olympians have been selected to compete in Tokyo Games.
Other Active LGBTQ+ Athletes Who Recently Came Out as Gay
Besides Luke Prokot, here are other athletes who have recently come out as Gay: 
Guillaume Cizeron
Cizeron, a French ice-dancing champion came out through Instagram in 2020. The four-time world champion and Olympic silver medalist confessed that he lived a childhood life filled with bullies, shame, and confusion. His coming out was also intended to help those who feel helpless and alone like he did.
Levi Davis
Levi Davis decided to come out to his teammates through a text rather than in person. He said, "Hi guys. I just want to tell you something that's been eating away at me for four years now. I want to be open and honest with you boys as friends and teammates. I'm bisexual." After his coming out, he received great support from teammates and fans and realized that he had nothing to worry about.
Quinn
Quinn, who is a Canadian soccer star, came out publicly as a trans person through Instagram. However, people who knew them personally knew about their sexuality. Quinn is still waiting to know whether they will play with the Canadian National Team in the much-awaited Olympic games.